Facts and questions on alcohol painting ink –
What are alcohol inks? 
Alcohol inks painting; These tiny ink bottles are packed with a punch and go a long way. Brightly coloured and loaded with pigment, this dye-based liquid is fast drying and translucent. 
Many different alcohol ink brands are available in the art supplies market: Copic, Freaky Frida, and Pinata are among the most popular brands in the Australian market.
What do alcohol painting inks consist of?
The main ingredient in each bottle is dye and alcohol. With different brands, the percentages of the elements differ, which causes them to run differently on working surfaces. Alcohol (Isoprproprylo) is the medium that causes the dye to move and have a fluid effect. It is also the medium we use to dilute, desaturate and soften the colour of the ink we are using. After the alcohol evaporates on the surface, you can see the remains of the dye. Ink with a higher alcohol content will flow more when applied, while one with less alcohol will move less. Both have their advantages. 
Copic versus Freaky Frida alcohol inks
The Copic and Freaky Frida colour range is vast. From bold, intense colours to soft pastel hues. There isn't a colour you couldn't match. If you were having difficulty finding a niche colour, all inks are intermixable and might need a bit of creative flair. The Freaky Frida alcohol ink range offers excellent value for money with larger ink bottles at a more affordable price. On the upside, the Copic range is ideal if you want to draw back into your artwork with more classic lines, as you can pair each alcohol ink bottle with the same colour marker in the Ciao, Original and Sketch collection. 
Pinata alcohol inks
Pinata alcohol inks are the only range that has an excellent opaque ink selection. Blanco Blanco (white) is extremely popular alongside brass, copper, pearl, rich gold and silver. The density of the opaque inks is slightly thicker. Often when sitting on a shelf, you will notice the pigment in the bottom of the bottle settles to the base. It would be best if you shook these inks well before you use them. Otherwise, you will be working with the bottle's alcohol (medium) content and not the actual pigment.
Hint: If you want soft pastel tones in your artwork, then you want to put your hands on a bottle of Blanco Blanco (white) Pinata ink.  
How to work alcohol inks
Mixing brands and colours can create fluid, marbled effects that can stand alone as beautiful abstract artworks. You can also draw into the alcohol ink and use it more as a background layer. Pigmented pens and paint markers are excellent for illustrating on top of alcohol ink. Use alcohol inks on a multitude of porous surfaces. Yupo paper, ceramic, perspect, tile and glass are to name a few. Alcohol ink is also a favoured art supply to colour polymer clay and resin. If you want to think outside the square, alcohol inks are a great medium to use on cotton canvas and linen. Australian artist Jessica Baker at the Baker Collection is very fond of this method.  
Applying the alcohol ink 
There is no right or wrong way to apply the ink and alcohol (also known as an extender, isopropyl or spreader). Use the alcohol first, then drop the alcohol ink on top. Let it dry. Then use the ink first and the alcohol on top. Blend it, flick it, spray it. There are no rules. Squeeze it straight from the bottle. Alcohol ink wipes out fairly easily and quickly, even on Yupo paper, so continue to blend, layer, and most of all, have fun. 
What is Yupo paper?
Yupo paper is not paper at all. It is lightweight and has the appearance of paper, but it is 100% recyclable, waterproof, tree-free synthetic paper. Its non-porous attributes and properties make it the perfect alcohol ink surface as the ink glides along the top. 
Remember when working with paper
When working on paper, you generally have to frame your artwork to showcase it. If you don't want to go for a traditional frame and are after a minimalistic look, other great surfaces for alcohol ink art are Perspect as this can be block mounted; a frame still can be added if you want a little bit more layering with no glass. 
Alcohol inks painting on canvas
If you want to use a cotton canvas for ease of hanging, you can do this too. You will get different results as Canvas is porous, and the ink will sink into the fibres. Because of this, you must prepare your canvas with a primer to make it less porous. 
Making a three-dimensional alcohol ink artwork
If you want to create three dimensional, a glass vase or a white ceramic pot, make excellent bases; You can quickly turn these into a stunning piece of artwork.
Sealing/varnishing your artwork
If you have created a piece of art and you love it. You need to finish it off with a good quality sealer. Alcohol inks are not lightfast. Remember, they are dye-based, not pigment-based. Unfortunately, it just the way they are. For keeping your artwork fresh, you don't want it to fade. You will need to use both Krylon Kamar varnish and a UV protectant by Krylon. These are both sprayed on when you have completed your masterpiece. Even if you are planning to frame your alcohol ink art behind glass, you must spray it. 
Artists tips on alcohol painting inks
As artists ourselves and with decades of art supply knowledge, we recommend starting with either a selection of cool or warm colours so that you don't end up with a muddy palette. Blues are popular to work with, especially when combined with the Pinata Blanco Blanco (white) to create seascapes. Getting started is easy if you are not sure of a colour palette. We recommend getting at least one colour from each primary colour. You can't go wrong with Cyan (Blue), lemon yellow and magenta. With these colours, you can mix just about anything. Less is more when it comes to the art of alcohol ink painting. Supplies will go a long way, and you don't need many. 
When you are ready to paint, take a deep breath and be prepared to get hooked. Even if you haven't drawn or picked up a paintbrush before, you are going to love this unique art form. 
Many beginners starting with the art of alcohol ink are not used to this easy painting method's beauty and magic. You can easily create a stunning painting to match just about any décor in less than half an hour. Alcohol ink has its unique flow, and it is often better to leave it to do its own thing.
Check out our basic, intermediate and art lover kit options and online course with Australian artist Jessica Baker. If you have any other questions, don't hesitate to message one of our creative team members at Art Materials Australia. 
Art materials designed by Australian artists for artists

Online basic alcohol painting ink workshop includes:
x1 Step by step video with Australian artist Jessica Baker
x1 650 x 910mm Yupo paper
x6 Pipettes
x1 500ml Blending Solution
x3 Freaky Frida Alcohol Inks
Postage
$120.00
Online intermediate alcohol painting ink workshop includes:
x1 Step by step video with Australian artist Jessica Baker
x1 650 x 910mm Yupo pape
x1 A3 200gsm Yupo paper pad
x1 A4 200gsm Yupo paper pad
x6 Pipettes
x1 500ml Blending Solution
x6 Freaky Frida Alcohol Inks
Chat to an artist and select your colour palette to match your interior styling
$180.00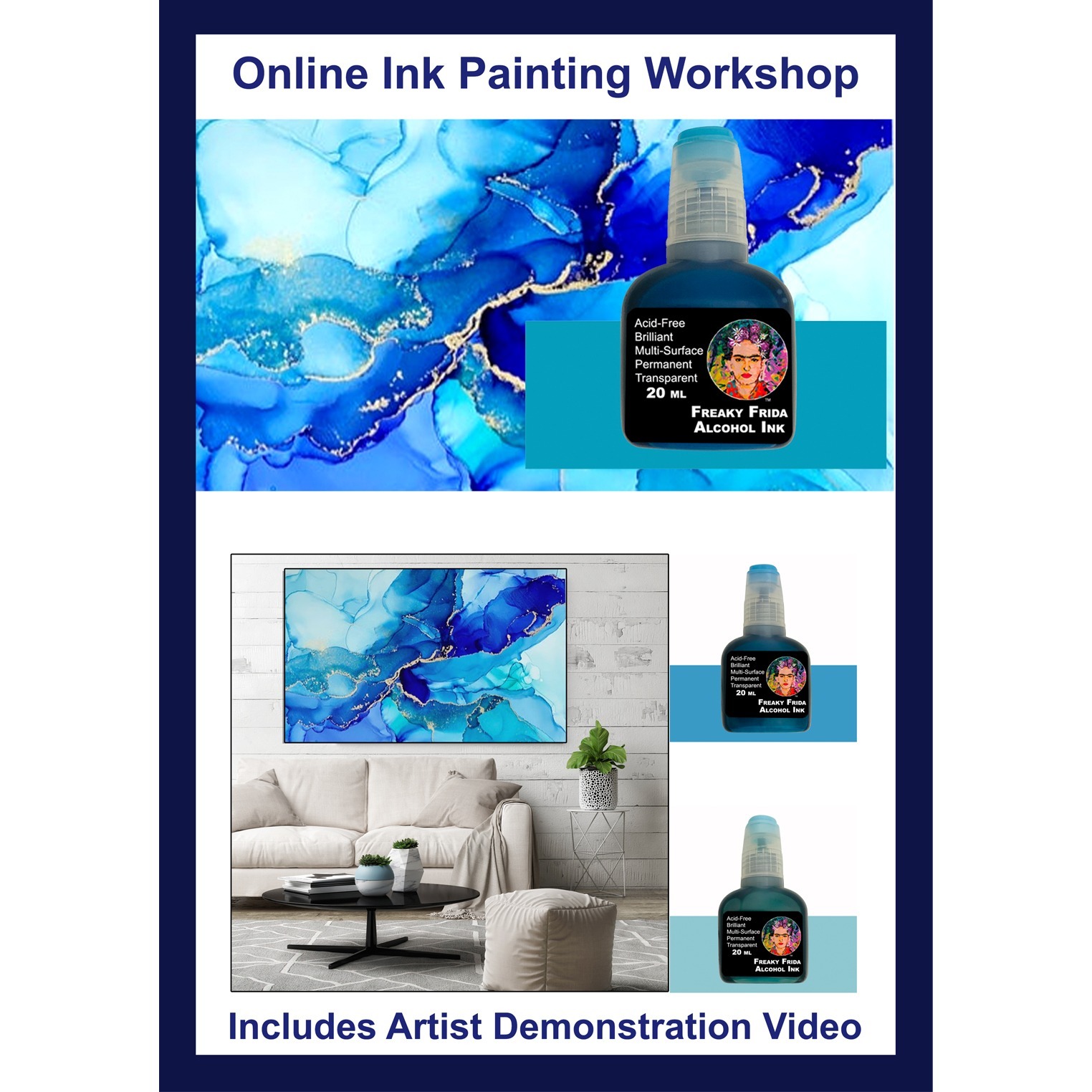 Online art lovers alcohol painting ink workshop includes:
x1 Step by step video with Australian artist Jessica Baker
x1 650 x 910mm large sheet 200gsm Yupo paper
x1 A4 200gsm Yupo paper pad
x1 A3 200gsm Yupo paper pad
x1 A4 black Yupo paper pad
x6 Pipettes
x1 500ml Blending Solution
x12 Freaky Frida Alcohol Inks
x1 4oz opaque white Pinata ink
x1 14ml silver metallic Pinata ink
x1 14ml rich gold metallic Pinata ink
x1 14ml brass metallic Pinata ink
x1 6pc Pro Hart Swagger fluid paintbrushes
x1 broad Uni-ball white gel pen
x1 Airbrush and accessories
x1 Krylon Kamar varnish
x1 Krylon UV resistant varnish
Chat to an artist and select your colour palette to match your interior styling
Postage
$435.00
Online art lovers alcohol painting ink workshop includes: